2013年 01月 31日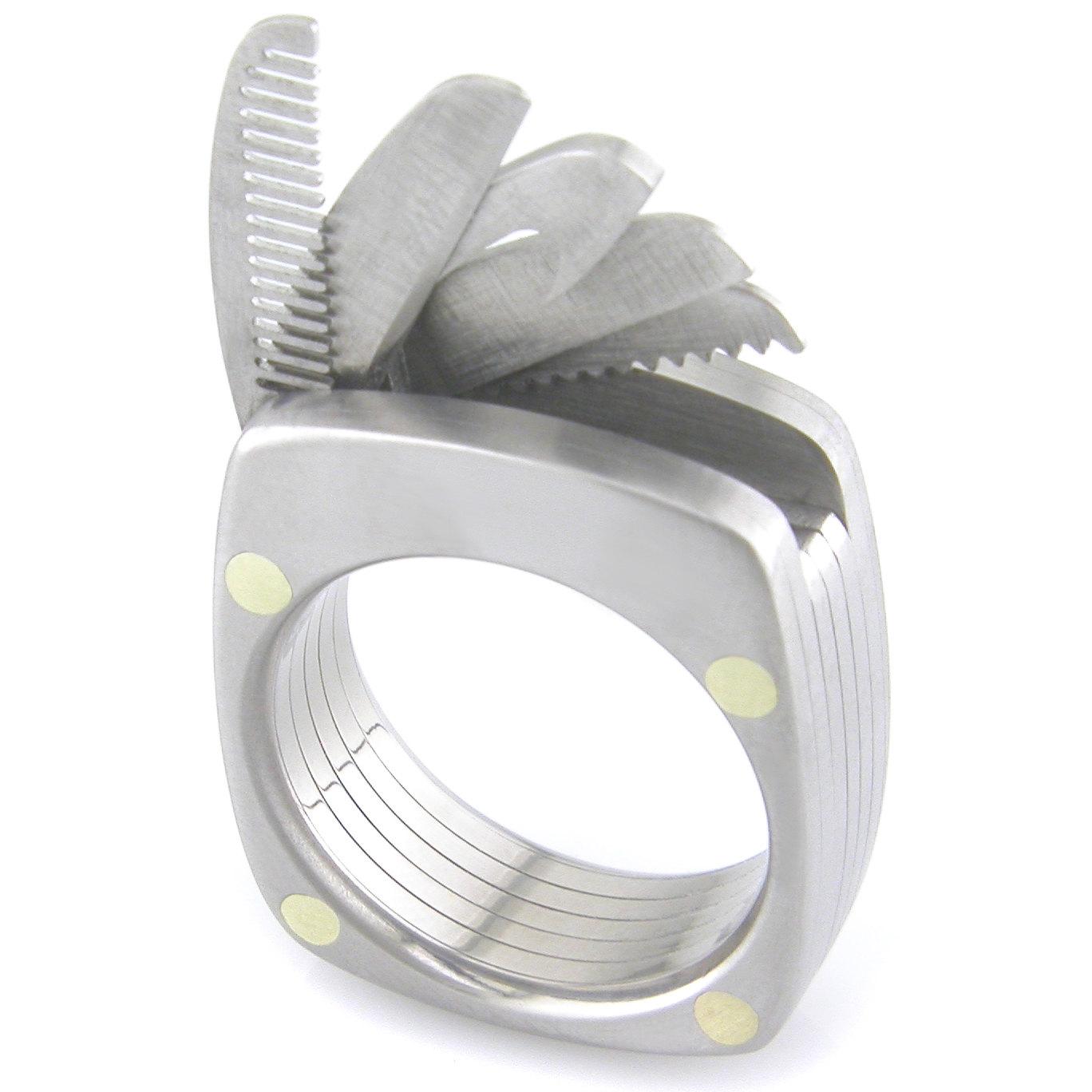 This is one of the most unique rings ever produced. Crafted from aerospace grade titanium, it is a comfortable and smart looking ring. Hidden inside is an assortment of useful tools. It has a working bottle opener, a straight blade perfect for cutting packing tape or fishing line, a serrated blade for tougher things like nylon strapping or those tough to open electronics heat sealed packages, a saw for cutting plastic and wood, and it has a comb! Although the comb is tiny, it actually does a surprisingly good job on the 'stache or head! You would be amazed at just how handy this ring is.

The ring is custom made in exactly your size. The width remains at 9mm. The Brushed finish seems to work best, so I left off those options. The inside of the ring gets a polished finish for comfort. Although the ring can be engraved, the internal lines will affect the letters a bit. I recommend the Roman font if you will be engraving inside. There are brass rivets that hold the plates together, and they add a touch of class.

This utility ring is not to be confused with a toy. It is a finely engineered and crafted piece of functional art that anyone would be proud to wear.
images: buy
boonerings (etsy)
extra
2013年 01月 29日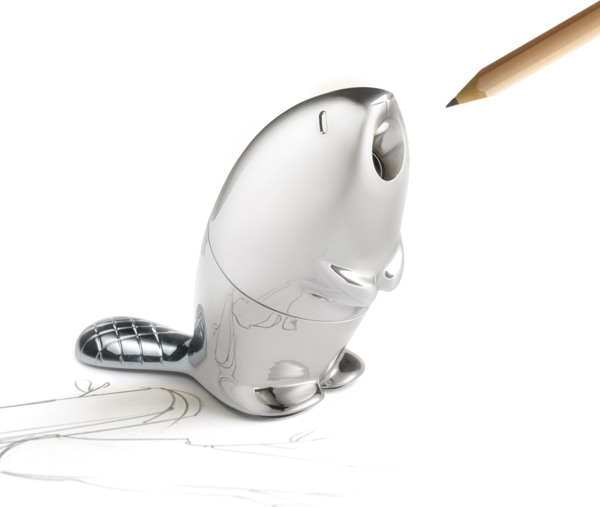 sharpener - paper weight
images:
behance.net
2013年 01月 26日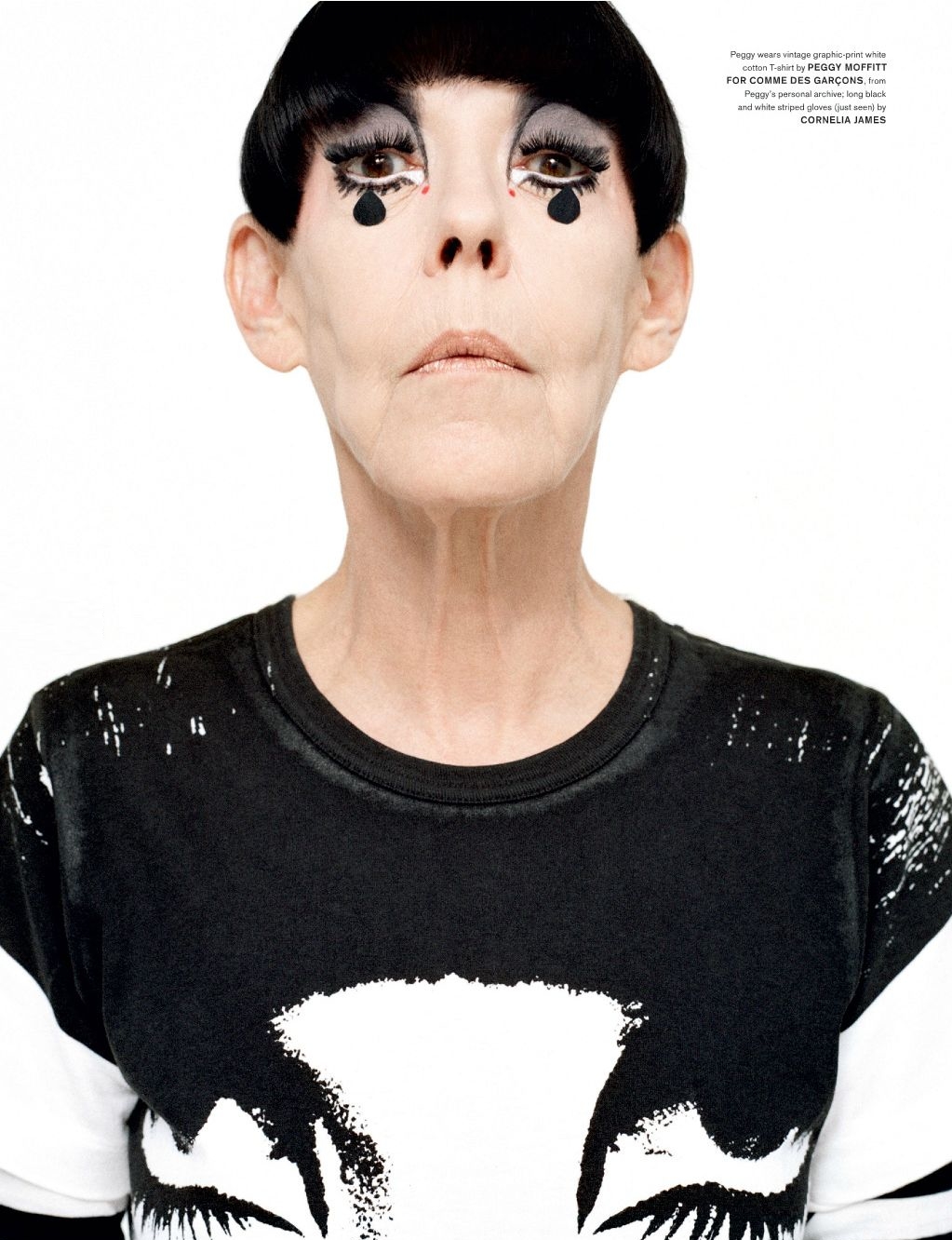 peggy

magazine: love #9 s/s 2013
model: peggy moffitt
costume: rudi gernreich
photographer: tim walker
stylist: jacob k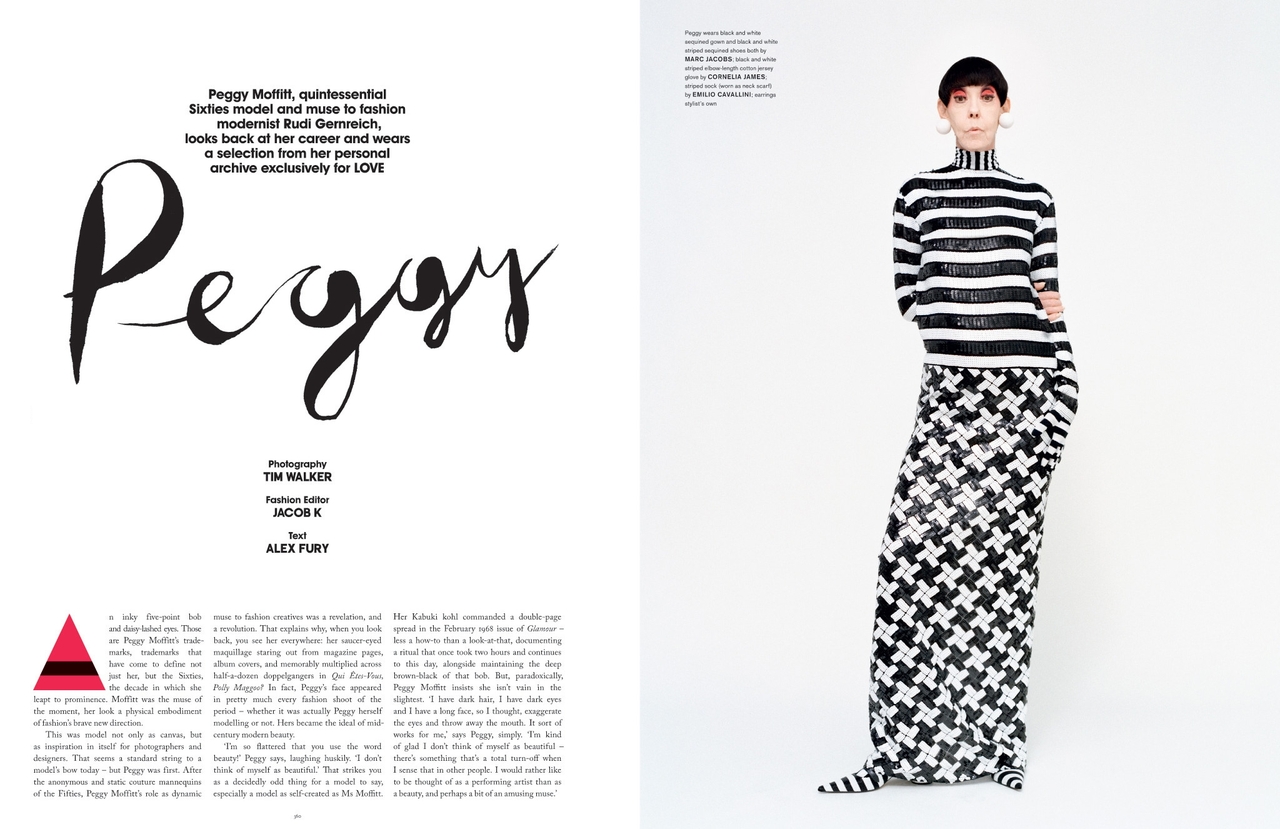 extra
2013年 01月 22日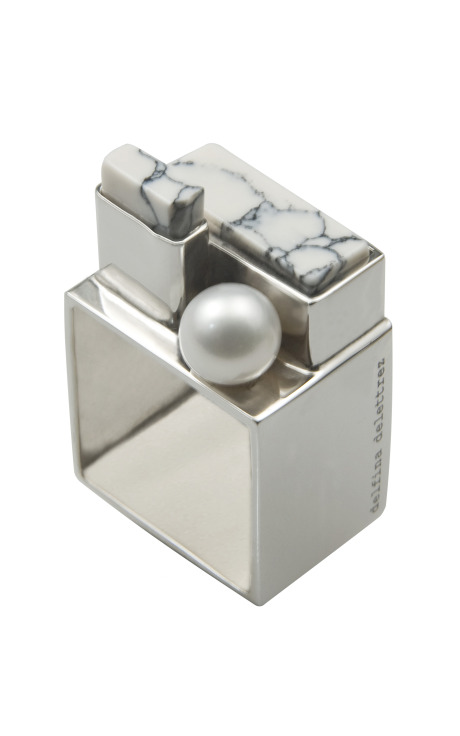 images
:
modaoperandi
2013年 01月 22日
Mr. Simons Plants His Garden
By CATHY HORYN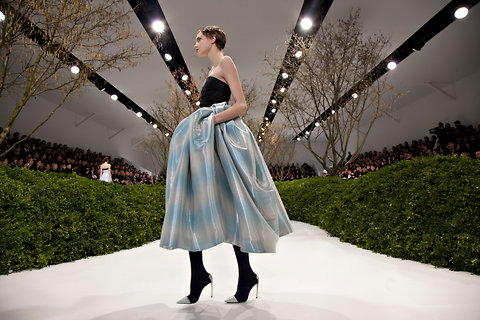 Valerio Mezzanotti for The New York Times
A gathered skirt in striped silk with a bustier at Christian Dior couture spring/summer 2013 in Paris.


Six months ago, Raf Simons presented his first haute couture collection for Dior; he then followed with a hit ready-to-wear show that instantly restored prestige to the house's tailoring. If people didn't believe that Mr. Simons, a maverick in men's wear and a relative newcomer in women's, could take control of Dior, they certainly were convinced after those shows.

COUTURE FASHION
Cathy Horyn's reports from the haute couture shows in Paris.

On Monday, in a recreated garden in the Tuileries, Mr. Simons surprised them yet again.

It was an astonishing show

, full of lightness, hidden layers of embroidery and dazzling color combinations. Beforehand, he admitted that some of the spring-hued colors — grass green, poppy, lilac, periwinkle — were new to him as well.

At the start of the show, the models emerged from a dressing room underneath the white set and began walking along paths arranged with dense boxwood mounded around skeletal trees. The Belgian gardening firm Jacques Wirtz supplied the plants and design. The opening looks recalled Mr. Simons's earlier collections: the airy full skirts, now in a fuzzy pale-blue silk stripe with a strapless black bustier. He wanted to evoke not just the complete experience of a garden (blue sky, black branches) but also the sense of things emerging from the earth and eventually blossoming.

This organic approach meant deceptively simple shapes at the beginning of the show. Among these were gorgeously plain dresses in, say, dark green silk or pale pink with a swag at one side. Sometimes there was an abstract splash of embroidery at the midriff or a glaze of beadwork along the edge of a bustier or dress. One coat had flowers embroidered on the inside.

Everywhere you looked there was something for the eye.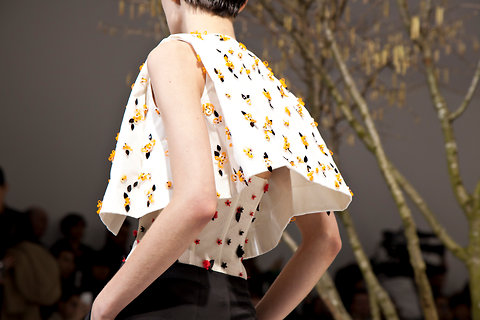 Valerio Mezzanotti for The New York Times
A beaded detail of a bolero over a bustier.


Mr. Simons has made the tuxedo a fixture at Dior, but this time the slim trousers had delicate folds pressed flat near the hips. The plainest navy silk gown went past; in the back, the draping left a sensual peak of bare skin. Another dress, made from several layers of pale pink organza — almost a cosmetic pink — was embroidered with a swirl of wide black satin ribbons.

Layering was almost a story in itself — and done with a lightness and a precision available only in a couture atelier.

A number of dresses were composed of two or three layers of gazar or tulle, with embroidery designed to create a three-dimensional effect. Some embroideries were delicate stems scattered across a vividly colored ground, while a few came in a mid-summer riot of poppy, green, orange, and gold.

Mr. Simons moved confidently away from the codes of Dior, not abandoning them, but feeling free enough to interpret designs like the Bar jacket in more abstract and, ultimately, inventive ways. The Bar jacket, with its crisp peplum, served as the basis for bustiers with trousers, and for his key new addition at Dior: a daytime suit in three pieces.

He called it a "totem pole," in part because the pieces appear in a stack of colors and minimalist shapes. For one look, a sleeveless jacket in pale blue double gazar appeared over a stiffened black silk top with a peplum. The neckline of the jacket was cut open and the garment actually had an under layer that was embroidered at the shoulders in tiny yellow flowers — they're barely visible in photos. The slim skirt was grass-green moiré silk with a black silk underskirt showing at the hem.

It's a completely different way of doing a suit — a simple design with a big impact.

Mr. Simons closed the Dior show with five wedding dresses, in white or very pale shades of pink. One came with a white silk jacket tossed over the shoulders of the model.

"Unbelievable," Bernard Arnault, the chairman of LVMH and Mr. Simons's boss, said backstage. "He's so gifted."

In the audience were Charlene of Monaco, the actresses Rosamund Pike and Marisa Berenson, the designer Azzedine Alaïa, and Pierre Bergé, the partner of Yves Saint Laurent.
images

:

source
nytimes
extra
2013年 01月 17日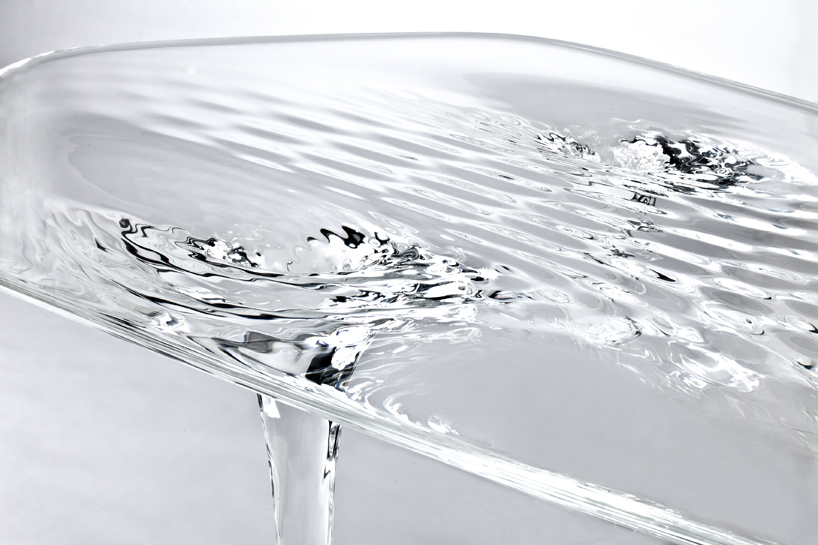 © zaha hadid architects
www.zaha-hadid.com
zaha hadid's transparent 'liquid glacial table' is a fluid furniture fixture resembling two interlocking puddles of clear water poured through three spouts,
frozen in time and turned upside down. the process of production perfectly captured the subtle rippling patterns that ever so slightly bend light, giving
a subtle delicate texture within the glass-like acrylic surface. the table is milled and hand polished to capture the refractions of the world that surrounds it. the project is nominated for the design museum's 'furniture' category for the sixth annual designs of the year alongside:
'100 chairs' by marni; 'a-collection' by ronan and erwan bourellec for hay; 'corniches' by ronan and erwan bouroullec for vitra; 'engineering temporality'
by studio markunpoika; 'future primitives' by muller van severen; 'gravity stool' by jolan van der wiel; 'medici chair' by konstantin grcic for mattiazzi;
're-imagined chairs' by studiomama (nina tolstrup and jack mama); 'tié paper chair' by pinwu; 'the sea chair' by studio swine & kieren jones;
'well proven chair' by james shaw and marjan van aubel.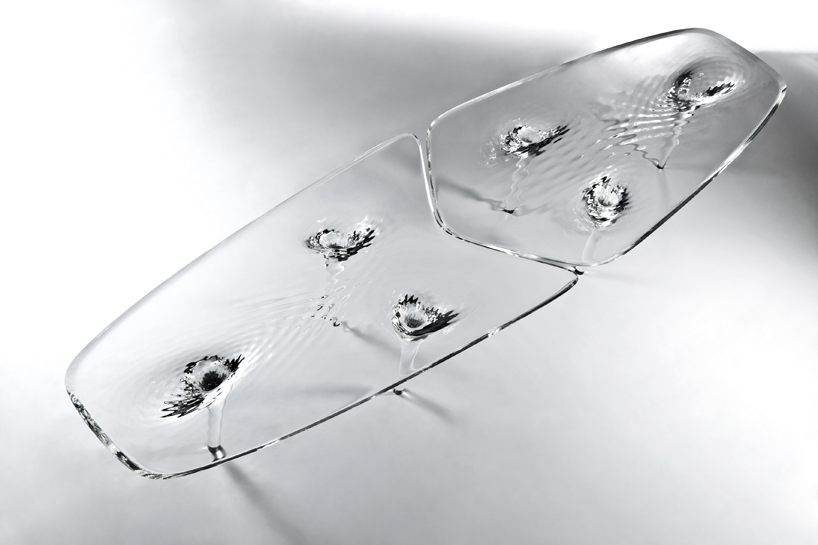 extra
2013年 01月 09日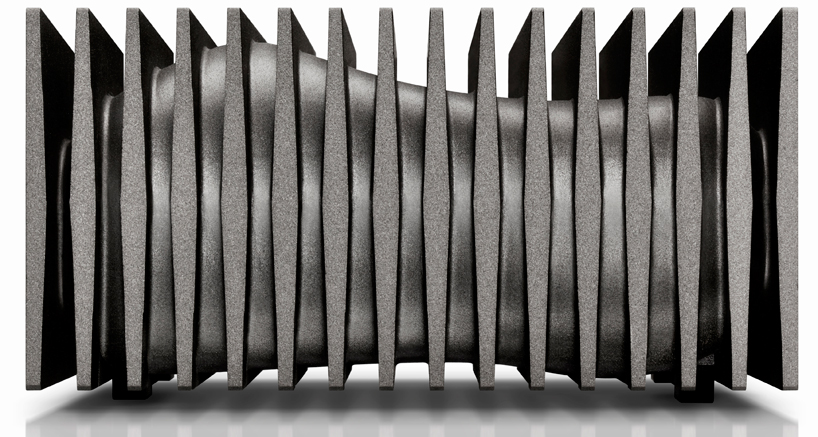 first imagelimited edition 'blade-runner' hard drive for LaCie by philippe starck




images

:

designboom




influenced by the mysterious, incredible power of information technology, french designer

philippe starck

has collaborated with


LaCie

to create the 'blade runner' - a limited edition hard drive that combines an anthropomorphic metal interior with an angular
cage-like shell. the concept asks the question; can we truly confine technology to a cage? with only 9,999 produced, the device is
made available with 4TB of memory and comes equipped with 10GB of complimentary
'wuala secure cloud storage' and user-friendly backup software using high-speed USB 3.0 as its main interface. featuring an LED
power button indicatior coming in the form of starck's signature symbol, the hard drive is wrapped and protected by an aluminum
exterior case, shielding the inner-components from overheating, ensuring file preservation. "in my design nothing is useless –
style, symbolism or functionality," says starck. "in the 'blade runner', the warm interior electronics
are encased in a mystifying shell, and the blades are the radiator that cools it down. the suspension gives space for air to circulate
around the hard drive, and the metal material increases the temperature conduction."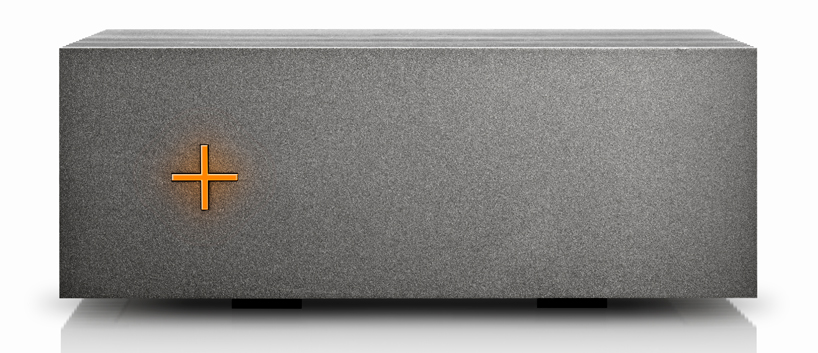 front view with 'starck symbol' indicator
extra
2013年 01月 03日
アバウト
カレンダー
カテゴリ
検索
その他のジャンル
ファン
ブログジャンル
画像一覧