2008年 11月 13日
| | |
| --- | --- |
| Protect Protect :: Jenny Holzer | |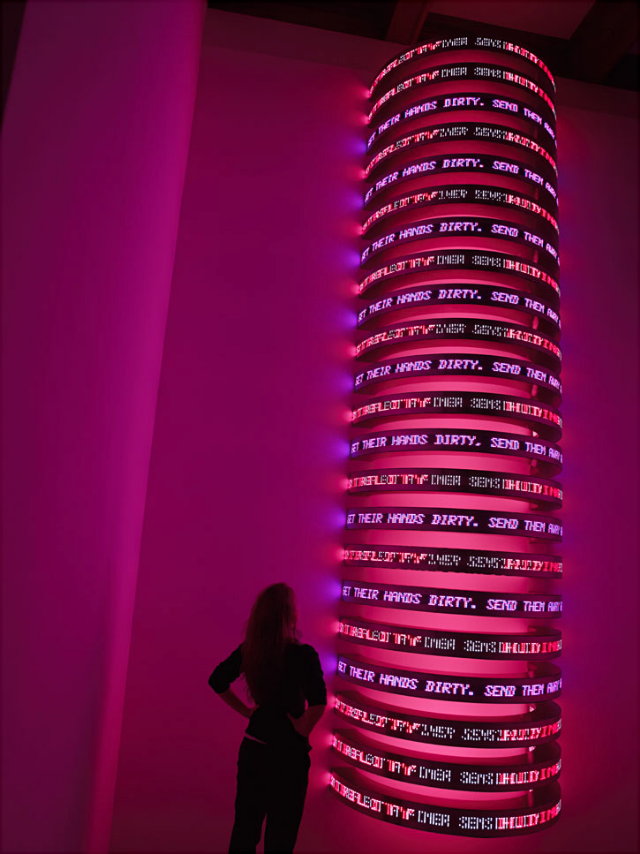 Jenny Holzer, MONUMENT, 2008. Text: Truisms, 1977-79 and Inflammatory Essays, 1979-82.
© 2008 Jenny Holzer, member Artists Rights Society (ARS), NY. Photo: Vassilij Gureev.
press release
Jenny Holzer, one of the leading artists of her generation whose career spans thirty years, is the subject of a major exhibition organized by the Museum of Contemporary Art (MCA), Chicago, in partnership with the Fondation Beyeler in Basel, Switzerland.

Holzer is considered one of the most significant and pioneering contemporary artists, both for her approach to language and for her use of nontraditional media and public settings for her work. The frequent presence of her work in non-art as well as art world contexts reveals Holzer's commitment to connecting with the public about issues of social and cultural importance. Her work pairs the use of text and the centrality of installation to examine emotional and societal realities. Seamlessly blending form and content, her work is characterized by formal beauty and conceptual rigor. The exhibition, Jenny Holzer: PROTECT PROTECT is on view at the MCA from October 25, 2008, to February 1, 2009.

Holzer has consistently and inventively challenged people's assumptions about the world we live in through a multiplicity of contradictory voices, opinions, and attitudes that form the basis of our society. Alternating between fact and fiction, the public and the private, the universal and the particular, Holzer's work offers an incisive portrait of our times.

The exhibition at the MCA is Holzer's largest and most comprehensive in the United States in over 15 years. Beginning with its fall 2008 presentation at the MCA in Chicago, the exhibition travels to other museums in the United States and Europe during 2009-10 where its components are reconfigured by the artist at each venue as the basis for a site-specific installation. The exhibition is curated by Elizabeth Smith, James W. Alsdorf Chief Curator and Deputy Director for Programs at the MCA.
October 25, 2008 - February 1, 2009 MCA Chicago (Museum of Contemporary art) 
address: 220 East Chicago Avenue, Chicago, illinois
MCA Chicago
via yatzer
via Wallpaper*
<< Salvador Vase :...
Moving Cage Rin... >>
アバウト
カレンダー
| | | | | | | |
| --- | --- | --- | --- | --- | --- | --- |
| S | M | T | W | T | F | S |
| | | | | 1 | 2 | 3 |
| 4 | 5 | 6 | 7 | 8 | 9 | 10 |
| 11 | 12 | 13 | 14 | 15 | 16 | 17 |
| 18 | 19 | 20 | 21 | 22 | 23 | 24 |
| 25 | 26 | 27 | 28 | 29 | 30 | 31 |
カテゴリ
検索
その他のジャンル
ファン
ブログジャンル
画像一覧